Discover the Sammode wall lights to illuminate
your living spaces 
Are you looking to enhance your living spaces, your house or your flat? Discover Sammode's design wall light.
Sammode, a French company specialised in lighting since 1927, offers you its different collections of lamps available with a multiple choice of high end wall lights.
Our designers have conceived a variety of glass models, using exclusively French industrial know-how for an authentic, aesthetic design and exceptional sustainability.
In a constant focus on innovation, Sammode hasn't ceased to surprise its customers by developing a range of lighting fixtures designed specifically for the residential environment since 2015. Discover now our industrial heritage made in France which adapts to any type of space from your children's bedroom, your living room, your kitchen to the perfect illumination of your terrasse or your garden!
Wall lights with a clean design
for a wide range of layouts
Design wall light in industrial tubular style
To bring a refined character as well as an industrial touch to your interior decoration, immerse yourself in our collection of tubular lighting. The result of our industrial know-how, this collection is both sturdy and multipurpose in design! As wall, ceiling or pendant light, these luminaires will ideally decorate your living room, your kitchen and your bedroom. They will also be ideal to warmly illuminate your summer evenings on your balcony or patio! Thanks to an IP 68 rating and a body made of marine stainless steel, the waterproofness of the luminaire is guaranteed.
If you are looking for a small design wall light, the Musset GR will meet your expectations. In fact, the multi-perforated grids of the wall lamp allow the light which crosses it to become softer and subdued to create an atmosphere full of finesse and lightness. Available in multiple finishes, this luminaire is composed of a glass body revealing a reflector tinted in gold, copper, silver, brass or bluish grey shades.
Designer reissues for vintage style
Are you a vintage fan? Do you want that retro feel in your room? Install the G1 Wall lamp in your reading corner or next to a dinner table!
Faithful to the original design, this light fixture was initially conceived by Pierre Guariche in 1951. It consists of a metal shade containing two light sources offering both direct and indirect lighting, directed upwards and downwards. You can easily direct the light as you wish with precision by turning the long arm of the luminaire.
A white aluminium cover in front of the bulb inside the shade provides glare-free lighting. A massive brass ball acts as a counterweight. The arm pushes the limits of gravity and is also made in brass. The G1 Wall is available in four finishes: white, chalk, black or vermilion. You can choose the colour that best matches with your decoration!
The G25 luminaire, also designed by Pierre Guariche, is an exceptional piece with a premium vintage style. A metal baffle overhangs the lamp which diffuses direct and indirect light like the G1 Wall. You can set the flux by adjusting its long brass stem. Feel comfortable installing it at your desk, in your living room or above your dining table!
Design wall light for your bathroom
At Sammode, we believe that your bathroom should be as well lighted as any other room in which you spend time. Several models of design wall light, including the Belleville Mini or Qinu, have been specially designed to bring a contemporary touch to this living space.
The Belleville Mini wall lamp, with its simple rectilinear pattern reminiscent of the Parisian street art temple, will light up your bathroom or terrace with a soft, enveloping 360 degree light. Very easy to install, its LED source is variable with the Casambi system.
The waterproofness of the Qinu wall lamp designed by Yann Kersalé, allows this light to bring a warm character and charm to your bathroom, your kitchen or your terrace. Delivered with its cable and a wall outlet, the Qinu luminaire also exists in a dimmable version allowing the variation of the light intensity in your bathroom. It can be controlled by Bluetooth via a smartphone application or via a switch.
Wall lights combining design and
and industrial resistance.
Developed by renowned designers
In tribute to the city of light, the Normal Studio duo has designed four families of luminaires that constitute the Paname collection. The luminaires are built around a grid pattern, including the Monceau model with herringbone grids and the Vendôme Nano model with interlocking grids.
The Monceau model is reminiscent of antique herringbone wood floors. The LED light passing through its glass body, decorated with a charcoal black grid and its reflectors, with bluish grey reflections, will light up your outdoor space, but also your indoor space with an ultra trendy effect..
The Vendôme Nano wall light, with its jewel-like appearance, has a glass body with a grid that evokes the streets leading to the famous Parisian square where the famous jewellery houses are located. With its Brass finish and delicate golden reflections, your terrace, your balcony, your garden or even your interior spaces will be bathed in a soft and warm atmosphere.
Exceptional finishing quality
Are you looking for a design wall light that is also suitable for the outdoor environment? Then discover our Bendz and Elgar wall lights, made of high-quality and resistant materials. Our design wall lights are rainproof, dustproof and UV-resistant. With a perfect waterproofness of IP68, these lights will be able to challenge the excessive humidity and heat outside, but also inside your home.
For example, choose the Bendz wall lamp, which is available in three different colours: silver, charcoal or marsala red. It is also available in a dimmable version via the Casambi application on your smartphone or via a wall switch. This will allow you to control the light intensity of your interior or exterior.
Elgar wall light is available in five finishes: Gold, silver, copper, brass and petrol. It is also produced in a black lacquered version – modest and chic. With a reflector that produces a petrol, soft or brass shade, this wall lamp is also available in a dimmable version.
Luminaires allowing the control of
of the light intensity
Gone are the days when lights lit up our homes with the same intensity! Nowadays, with the evolution of technology and the emergence of smart homes, it is possible to control the atmosphere and the brightness you want to add to your home.
Live to the pace of your wishes and needs by adjusting the light intensity of our top-of-the-range design wall lights in dimmable version !
They can be connected to a conventional wall dimmer or to a wireless, battery-free connected switch. The wireless switch is fitted with the Casambi system and communicates via Bluetooth with compatible Sammode luminaires. This allows you to easily configure your switch and lights from your smartphone or tablet by using the Casambi app!
In this collection, you will also find the Nilak lamp, which is half wall lamp, half hanging lamp! It will offer you a perfectly subdued light for your reading or relaxing moments. Its 800 lumen light output is ideal for a clear and precise view of your work space. During your evenings with friends, the Nilak lamp will enhance your dining room, your terrace or your garden with a soft and warm lighting.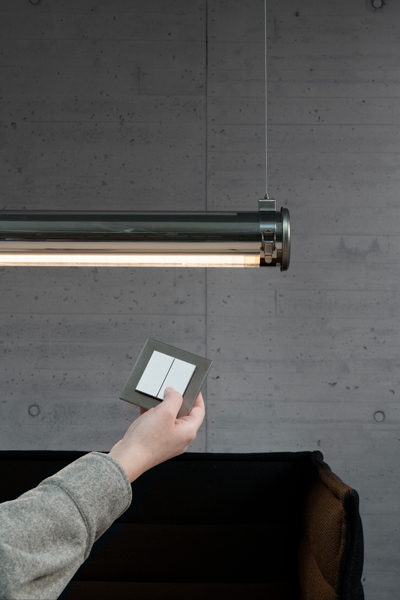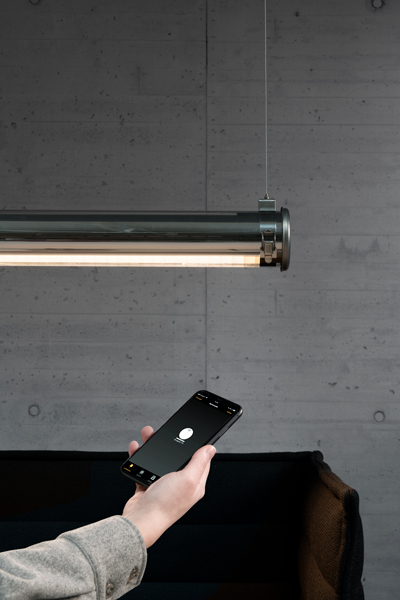 High-end wall lights
made in France
With a 5 year guarantee, Sammode luminaires are made to a robust protocol, developed by our research and innovation centre in Sologne. The components and materials are specially imported from Europe and selected in our laboratory. Our luminaires can withstand extreme conditions ranging from -60° to +200°. The made in France production takes place in our factory located in the east of France in Châtillon-sur-Saône.
All our wall lights are supplied with cables and have a wall outlet for easy connection to the electric mains. Optional accessories and spare parts are also available to ensure a long life for your lights. At Sammode we always reject programmed obsolescence and are proud to offer you repairable and upgradeable luminaires to combine design and durability. In this spirit of constant innovation, we want to put our industrial expertise at your service, whatever the place you want to light: your flat or your villa, restaurants, hotels or even shops or other public places.